Multigenerational living is a growing trend worldwide, but it's especially gaining popularity among families in the US. Not only do multigenerational homes provide an affordable option for extended families to live together, they also offer many benefits like an abundance of hands-on support, pooled resources, an enhanced sense of intergenerational connection and support, and potential long-term cost savings.
In this blog post, we'll explore what multigenerational households are, why they're becoming increasingly popular, and how these households can be beneficial for all involved. We'll also explore scenarios as examples. So if you've ever been curious about the concept of multigenerational homes or if you've considered it for your own family, keep reading to learn more!
What Is Multigenerational Living?
The number of Americans living in a multigenerational household with three or more generations has nearly quadrupled over the past decade, with a dramatic increase of 271 percent from 2011 to 2021.
Multigenerational living is the practice of having multiple generations living in one home. This can include grandparents, parents, and children, although it doesn't have to be limited to just these family members.
With multigenerational living, families can benefit from valuable resources such as intergenerational companionship, shared financial responsibilities, and a deepened sense of familial connection. It's also an effective way for families to save money and teach younger generations about managing finances. Plus, this style of living can help reduce the loneliness and isolation that comes with living alone, especially among older family members. For those looking to share memories, cook up laughs, and strengthen relationships between generations, multigenerational living is the perfect option!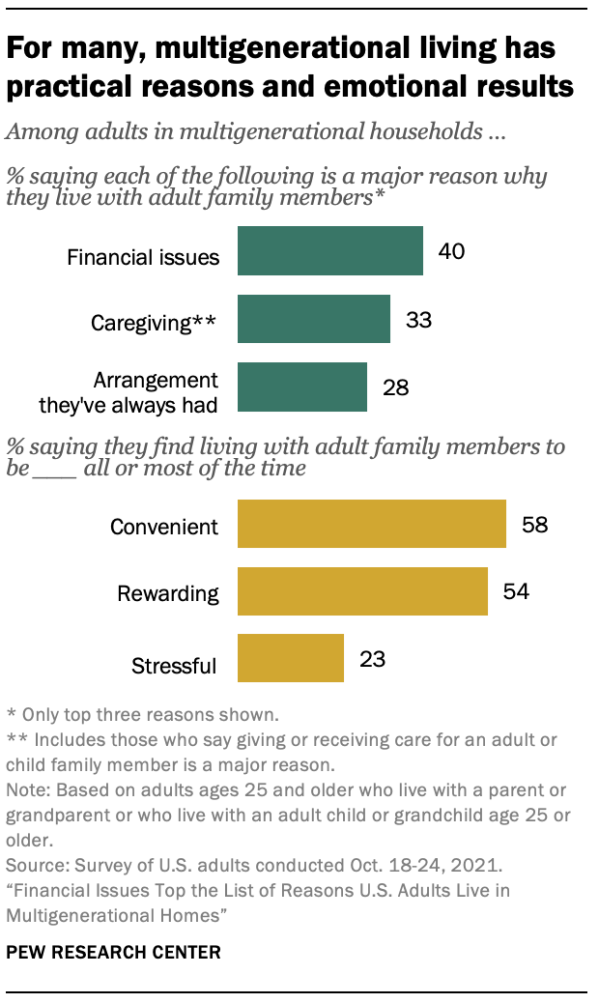 While multigenerational housing has been steadily gaining traction recently, it is definitely not a novel concept for humankind. In fact, throughout the ages, pooling resources and residing together under one roof or plot of land has been advantageous for families. Even after the emergence of the single-family home, an in-law suite was necessary to accommodate elderly family members. Nowadays, limited housing options, expensive property values, and higher interest rates make multigenerational housing a much more appealing choice!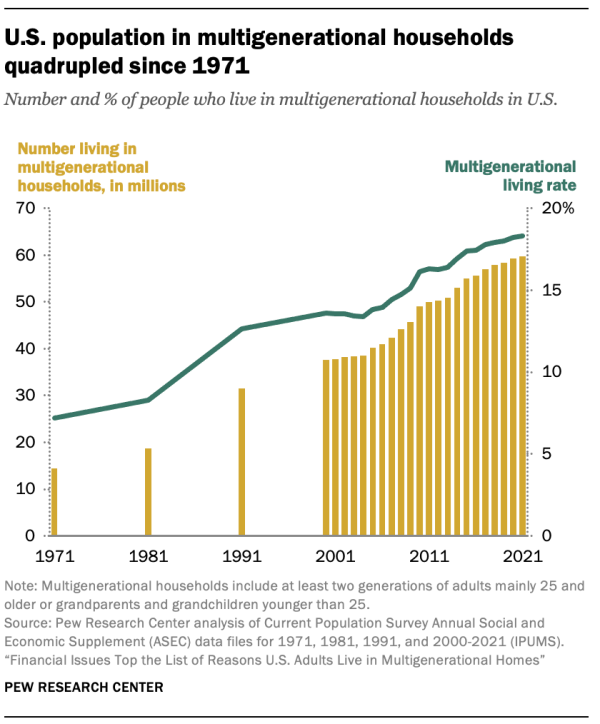 Why Are More Modern Families Choosing Multigenerational Living?
Families everywhere are turning to multigenerational homes – a trend greatly impacted by tight housing inventory, pricey real estate, and aging demographics. With the cost of renting or buying an individual home soaring, living with extended family members grants an opportunity for savings while fostering deep bonds.
66 percent of those living in a multigenerational household say the economic climate was a factor in their living arrangement.
Living in a multigenerational home is becoming increasingly popular among families. By pooling their resources, relatives can provide invaluable caregiving and support – from grandparents helping with childcare to adult children having access to a lower-cost living solution. Even during uncertain economic times, this arrangement can be an enormous benefit for many households, allowing them to create a secure environment that would not be possible if living separately. It is clear that multigenerational households are on the rise, and even through challenging periods, these arrangements bring about huge advantages for the people involved.
The top reported causes for forming their multigenerational household are the need for eldercare (34 percent), childcare/child education needs (34 percent), job loss/change in job status or underemployment (30 percent), healthcare costs for one or more family members (25 percent), cultural and family expectations (23 percent) and education/retraining expenses (23 percent).
Benefits Of Multigenerational Living
As I've previously discussed, multigenerational living is not unheard of. As Boomers enter their golden years, many families are choosing homes with in-law suites to make life easier for retired parents and their adult children who are now caring for them. Celebrate all that comes with this newfound lifestyle – it can be a win-win for the whole family!
The overwhelming majority of Americans living in a multigenerational home (98 percent) say their household functions successfully, citing various factors that contribute to the success, many of which fall into three categories further delineated in the report: family relationships and interactions, home design and supports and services.
After the 2008 housing crisis, many adults discovered that they needed to move back home to live with or near their parents. This was often due to financial hardships, the need for childcare, or to care for an aging parent. Since then, families have continued to see that for some it makes sense to share a home or property.
Post-pandemic, many adult children moved back home (aka "boomerang kids") while on the flip side aging parents found that they needed to move in with their adult children. Either way, families have found that by living together they can save money, provide better support for each other, and pool resources to have a better quality of life for all members. It's easy to see the potential benefits.
Closer family bonds across generations
Easier care for young or old family members
Better financial health for the whole family
Improved mental and physical health
Makes it easier for members of the family who are pursuing higher education or job training
More environmentally friendly
Potential for bigger, better property
Nearly four-in-ten men ages 25 to 29 now live with older relatives.

Americans living in multigenerational households are less likely to be poor than those living in other types of households.
For aging parents who move in with their adult children, there is another potential benefit of downsizing into an in-law suite – travel. Active adults can rest easy and enjoy their travels knowing that there's someone home to keep things safe and care for pets. This lets them travel while still maintaining a home base.
Types Of Multigenerational Living
American families are incredibly diverse in their makeup. The most typical multi-generational households include three generations – often featuring an adult of working age, their children, and either an older parent or grandparent. It is a unique dynamic that accurately captures the evolving spirit of American family life.
Grandfamilies refer to family households where grandparents take the lead in raising their grandchildren under the age of eighteen. In contrast, two-adult generation households are typically comprised of parents and their children, but may also involve adult children moving back in with their parents.
Finally, the four- or even five-generation household is gaining traction in the US. More families are reaping the advantages of sharing a home or living close together. This dwelling arrangement is growing in popularity to accommodate great-grandparents, grandparents, parents, and their kids.
One working mom said, "I get housekeeping help from other family members. My children get child care, love, and attention from their great-grandmother and grandparents. Our great-grandmother receives the necessary support and care she needs. My husband and I get financial assistance from his parents and learn from their experience."
How Do Multiple Generations Make Living Together Work?
I know what you're thinking… that's great on paper, but how are families actually living together? If you're thinking about ways to combine households with family, it's important to think about everyone's needs and get creative. Here are some possible scenarios to give examples of families living together.
Buying a home with an in-law suite for an aging parent
Combining households with aging parents in a home with two separate living spaces
Purchasing two homes or condos next to each other or in the same neighborhood so that everyone is close but has their own home
Purchasing a home with enough land where adult children can have their own tiny home(s) or guest house but still share some resources
Buy a duplex or quad and rent units to aging parents and/or adult children so that everyone can be close but have their own apartment
That's just a few ways that families can take advantage of multi-generational living. What's right for you and your family might look a bit different, but the benefits of combined resources and care remain.
Getting Started With a Multi-generational Home
If you're considering multi-generational living, the first step is thinking about the family members you will include and what their needs are. Combining households with aging parents will present different needs than combining households with younger, adult children. While aging parents may need to have wheelchair accessibility and be close to medical facilities, adult children may need space to hang out with friends or be close to a university or career opportunities.
You will also need to consider your budget. The good news is that by combining households, you may be able to afford more together than you could separately. However, when it comes to the mortgage, you will need to talk with a lender to determine the structure and options available to you and your family. If you already own a home that you will be selling, get your free home value estimate here to see how much you could potentially net from the home sale.
Once you know your budget and needs, house-hunting can begin! You can start by browsing homes for sale online, but it has been shown that buyers who start with an experienced agent find what they're looking for faster. So, reach out and tell us what you're looking for and we'll do the leg-work to find properties that could work for your needs.
Browse Homes For Sale With a Rec Room/Basement